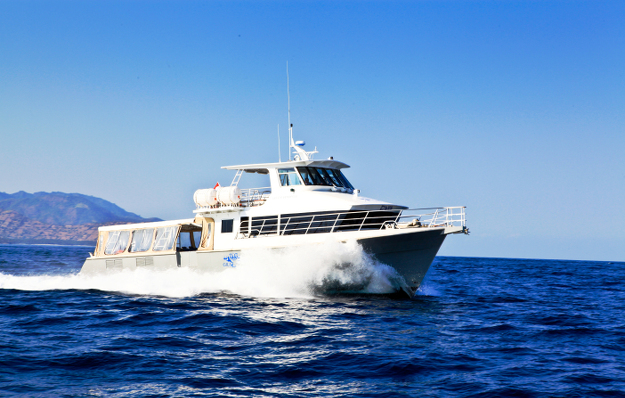 Gili Cat Fast Boat has been established since that time by the Australian-owned and managed. Gili Cat offers daily transfer from both Bali to Lombok and Gili Islands, and it's truly the pioneer of fast boat company.
A trusted management and staff services have also known to the public as a reliable, fast, comfortable, affordable and safe services for each customer. Customer satisfactions is their number one goal. Providing customer satisfaction may feel like the most important thing on their big-to-do list. It has been the reason people keep using their services on daily basis.
Gili Cat boats were made in Australia and particularly suitable for family vacation. One of the popular services Gili Cat provides which has been a latest good offer is their free shuttle service in Bali by this following ports; Ubud center area, Sanur, Seminyak, Legian, and Kuta.
Boats usually depart from Padangbai at 8:45 A.M. and 9:15 A.M. Each boat has been standardized by the United Nations SOLAS (Safety of Life at Sea) Convention. The boats equipped by the best safety standart, communication, and navigation equipment. In addition, the captains and chief engineers have more than ten years of commercial seagoing experiences. They have attained internationally certificates.
So, you can trust Gili Cat boat for your travel partner in Bali, Lombok and Gili Islands. You are in good hands.
Gili Cat 1
This boat has three crews on board. It can have a sail at a maximum speed of thirty-four knots. It can carry twenty-two passengers at once. It's length is 11.25-meters.
Gili Cat 2
This boat has three crews on board. It is a bit bigger in size than the Gili Cat 1. Overall the length is 11.58-meters. It can carry thirty-four passengers at once and it can have a sail at a full speed of thirty-five knots. You can already conclude, if you want to make your trip to Bali, Gili Island, and Lombok as pleasant as possible, Gili Cat is your best choice.