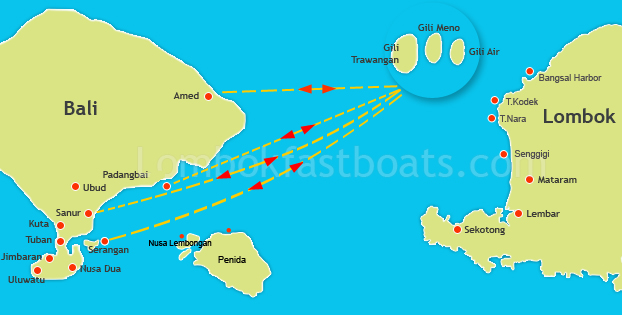 Indonesia is a beautiful place everyone'd love to see again and again. The places everyone gone to and the trips that they have taken photographs of nature, love and laughs of the loved one.
Bali, Indonesia has been a famous tourist destination with all the breathtaking beaches, friendly people and their cultural wisdom. It is a living fantasy that really exists. For good reason, it has hotels, tours, shopping spots, nightlife and the most popular attractions in the Indonesia archipelago. Bali as same as a good mood, aspiration and a tropical state of mind.
Move to east from Bali, Nusa Tenggara. It has Lombok and the gili islands, another islands of God. As same as Bali, Lombok rich and diverse culture at all levels of life. It is as big as Bali with the second-highest volcano of Indonesia, the mighty Mount Rinjani. It is enhanced with beaches, rivers, waterfalls, lakes, temples and gili islands the exquisite droplets of white sand sprinkled with coconut palms and surrounded by stunning coral reefs with marine life and legendary nightlife in Gili Trawangan. A environmentally friendly tour is growing in Gili islands, there is no any motorbikes or dogs in Gili islands. They are far from cosmopolitan, have strong local character and some of the gili islands are simply a desert-islands getaway.
It is easy to get to Gili islands either from Bali or Lombok mainland. Most of the travelers get their fast boats tickets from travel agent and transferring through Padang Bai or Amed. The ports have some options according to your budget. They have stuffy public ferries to luxurious private charters in January and February as the best season, when the seas is rather choppy or you can take a helicopter ride to enjoy well worth show during your trip.
So, here are the best way to get Gili islands from Bali :
Boats from Padang Bai Port
Padang Bai is a small fishing town in northeast of Bali uses for boats stopping point. Many fast boat operators provides services from Padang Bai port to and from Lombok and Gili islands. Fast boat trip between Padangbai harbor to Lombok / Gilis Island is about 1 hour 30 minutes.
Boats from Amed Port
The only great way from Amed to Gili islands is getting on the fast boat that crossing the Lombok Straight. It takes only 45 minutes to more than 1 hour on normal trip.
Boats from Sanur Port
Sanur is located in southeast coast of Bali. Sanur is also the main gateway to visit Nusa Lembongan and Nusa Penida. Fast boat trip from Sanur to Gili islands takes about 2.5 hours via Nusa Lembongan.
Private Sailing Charter
Private charters are also possible with prices depending on the number of passengers and your bargaining skills. It doesn't cost very much for a boat, especially you have a few people in your group. Some providers offer an array of luxury yachts and sailboats for charter around Bali and is open to any request and can work on demand.
Public Ferries
Public ferries means just a large outrigger boats depart regularly to gili islands with prices are posted clearly on the wall of the ticket office. Public ferries leave when there are enough passenger to warrant the trip, so you may wait longer.
Private air Charter
The private charter is provided a regular helicopter transfer service between Bali and Gili Trawangan. Visit www.airbali.com