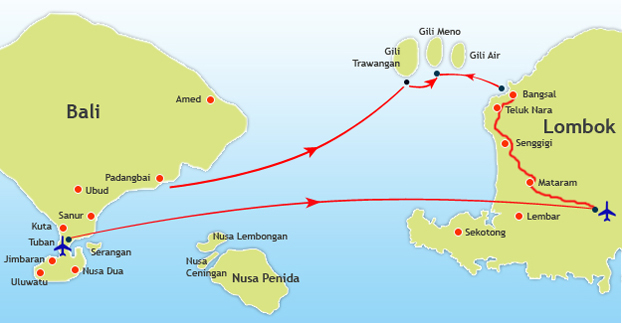 Gili Meno is one of the best dive spots and snorkeling reefs in the Gili islands. Crystal clear waters, spectacular coral reefs and an abundance of marine life have always amazed deep sea divers and snorkelers alike. The tropical weather conditions and year round, warm waters of Gili Meno mean diving has always been popular. Some of the dive center organize diving trips around Gili Meno to suit every level.
You're welcomed to explore the breathtaking underwater sculpture park just moments from BASK Gili Meno's private resort beach. The artist, internationally celebrated eco-sculptor Jason deCaires Taylor, designed the lifelike figures from sustainable materials to attract and house all kinds of spectacular marine life. The underwater installation titled as Nest, it promises an unforgettable snorkelling experience when visiting the Gili Islands.
There are some beach bars, warungs and restaurants around Gili Meno than you'd expect for such a tiny island. The restaurants serve everything from authentic Sasak cuisine and Indonesian fare, to pastas, pizzas and even organic juices and salads.
From Bali, Gili Meno can directly reach by sea transport such as by fast boat with 30 – 90 passenger seats. The fast boats have their own schedule to stop in Gili Meno in different estimation of transfer time. Both of Blue Beach Express and Sea marlin Cruise departure from Padangbai in 1.5 hours or Kuda Hitam from Amed port for 1 hour cruise.
But, most the fast boats do not go directly from Bali.  They are hopping boat from Gili Trawangan to Gili Meno. The hopping boat could be private chartered boat or public boat. They departure from some different ports in Bali such as Serangan, Padangbai and Sanur. They estimate estimate 1.5 to 2.5 hours transfer time.
The tickets usually includes free shuttle service from and to passenger's hotel for the hotels in most tourist areas. You can choose kinds of boats such as public boat (ferry), shuttle boat and charter  boat or even If you want to reach Gili Meno from Bali by flight, you have to take a flight from Bali airport to Lombok airport in only 25 – 30 minutes and then your boat operator will arrange the private shuttle service to Gili Meno, because the tiny island has no airport.