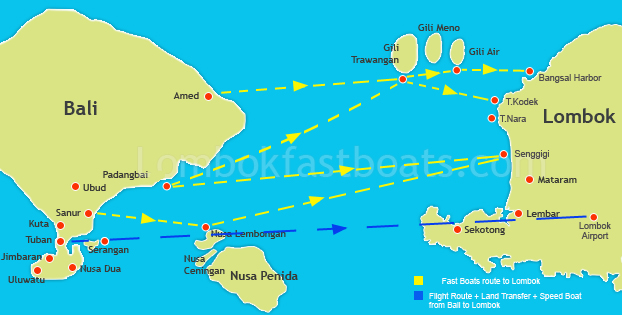 Lombok is the amazing islands in the east of Bali with dramatic crystal clear beach. Lombok is a slight of heaven of exotism. You will feel amazed by the nature of Lombok island such as Kuta Beach Lombok as the dramatic crystal clear beach, Benang Kelambu Waterfall as the stunning natural curtain, Gili Trawangan as the stunning island in Lombok, catching sea worm and snorkeling on Seger Beach, Tanjung Aan Beach as a beautiful beach with Bau Nyale Ritual, Senggigi Lombok to get the adrenaline rush through surfing, Gili Air has a slight of heaven under the sea, reaching spiritual tranquility at the temples and many more.
Lombok has millions tourism destination to attracts people. Many of tourists are attracted to Bali annually. But, Lombok offers more hidden amazing beaches, friendly people, varieties tasty foods, fantastic nature and more great things you should see at least once in your life time. It is a must!
It is an easy thing to get to Lombok mainland from Bali island. You can choose some transportation option at varying prices. Here is some option for you :
Fast Boats

Many fast boat operators offer this service and some of them offer addition bonuses such as free shuttle transportfrom your hotel, snack and beverages at non-additional cost in your ticket. The fastboats usually depart from Padang Bai or Serangan / Sanur port. It usually takes 2 hours via Lombok Strait.
Public Ferries

Public ferries to Lombok usually depart every hour for the sea voyage from Padang Bai Harbour in Bali to Lembar or Senggigi Harbour in Lombok. It usually takes 4 – 5 hours to reach Lombok mainland.
Private Boat Charter

It is usually quite more expensive when compared with the previous options. It is the best suited for larger groups of people used for special purpose of a surfing, cruising or snorkeling to the popular destination around Lombok.
Flying

All the flights in Lombok depart and arrive at Lombok Int'l Airport. It is usually offered by several smaller airlines that has direct flights. These flights are usually booked by a travel agent or you can book it online. You can flight with Garuda Airlines, Wings Air / Lion Air, Silk Air and Air Asia to Lombok from Bali.