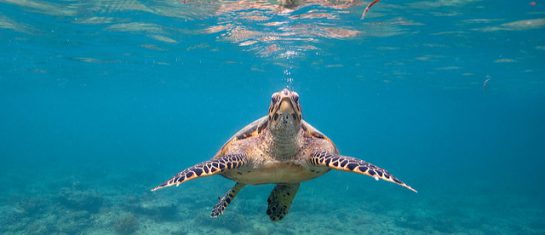 Scuba diving becomes one of the interesting idea to explore the beauty of sea, especially when you are staying in Lombok for your holiday. Lombok now becomes one of the great holiday destination in Indonesia. Lombok has special scenery by its beautiful landscape. In other hand, Lombok also offers nice place for you to get the spot scuba diving in Lombok. One of the special place to have scuba diving in Lombok is the Gili Island. Well, Gili Island could be compared with Komodo Island and Bunaken, which will give you nice experience in diving. Let us talk about what make Gili Island becomes best choice for scuba diving.
Overview of Gili
Some people maybe don't know about what really happening in Gili. Well, we are sure that when people go there to enjoy their holiday, they will be shocked with the beauty of Gili. As the other beach of Lombok, Gili also has a pure and nice beach. The sea is blue with great white sands border it. The sea of Gili is very clean, so you are able to see the biota, fish and others beneath the sea. Besides, the clear sea also has a calm wave, so your diving will be so interesting. Gili is also full of turtle. You are able to see the living process of turtles here!
Best time to dive
Before making planning to enjoy the spot scuba diving in Lombok, it will be best for you to know the recommendation time for diving. Having diving in best time of course will give you an interesting experience and you are able to see the great ecosystem below the sea. Actually, you are able to dive in Gili in all year round because the characteristic of wave here is calm. However, we argue that you need to avoid having diving on December and January. It is because Lombok will have heavy rainfall in those months, which will reduce visibility in seeing biota.
Something nice that you need to know is that Gili has a nice water temperature. The overall water temperature here is between 26-degree to 30-degree Celsius. It means that you don't need a special equipment in having short dive. However, for the long dive, you need a complete equipment. However, maybe you will find a broken coral beneath the sea. Yes, there is a broken coral around the three island because of the extensive bomb in the past. The coral now is still growing and it needs more time in recovering.
Place to stay
People do not to worry about searching the places to stay when they have a holiday in Gili. Around the beach, there are some nice hotels, which could cover the need of people to enjoy their night. Hotels there are great with the complete features and clean condition. Moreover, the cash of it is lower than hotels in Bali or Bunaken. Besides the great hotels, Gili also provides the dive course. The dive course will be something special because here you also could learn a special technique for having nice diving. Arrange your time and make your planning to enjoy the spot scuba diving in Lombok, especially in Gili Island!
Social Share