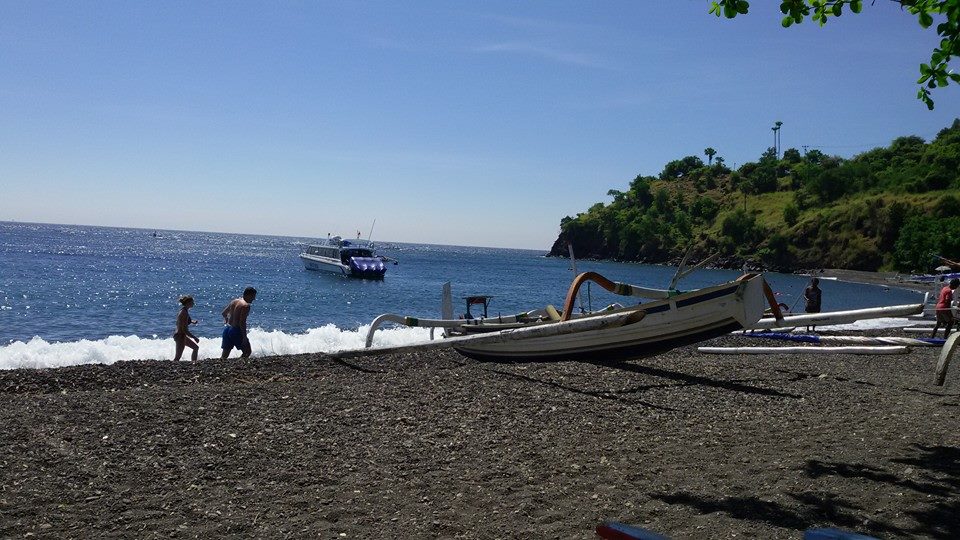 In coastal strip of East Bali, there is a fishing village named Amed. The inhabitants live from fishing, salt-making and tourism. It is a long strech of coast incorporating the seven village of Amed, Jemeluk, Bunutan, Lipah, Selang, Banyuning and Aas. Salt production is still improtant industry in this area. A little boxes of gourmet Bali salt cristals you see in delicatessens and speciality food stores all over the world may have started their long journey from these area. You will see large open drying pans crusted with salt crystals as along as you drive on the main coast road through the villages.
Amed is the perfect place for a relaxed holiday in Bali. It is famous for its beaches with quite coarse black volcanic sand at Amed village beach. The beaches have softer sand and a mid grey-brown in colour.  Some people come to Amed as a getaway. Traditional outrigger boats are available for fishing charters from the main beaches in the Amed area. It is trolling for mackerel, barracuda and tuna in early morning.
Sometimes, during the day, children trawl the beach for selling local salt and beaded bracelets. Try to buy one, they will speak English in high pitched voices while chanting a thank to you.
Amed is located on the north-eastern tip of Bali, a 2 hours and little more drive from Ngurah Rai International Airport. Public transportation in Amed is rare. The easiest way to reach Amed is to rent your own transport and the driver. It is possible to negotiate lower prices if the vendor has other passangers, which means the vehicle can be shared.
Amed port was build for the tourists through the sea route from Lombok, Gili Trawangan, Gili Meno and Gili Air that usually arrives twice a day.