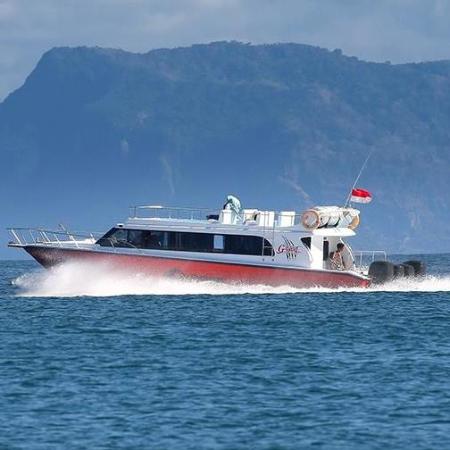 G-Force cruise for trans Bali Island – Lembongan Island is handled by staffs who are experts in their field especially in cruise services.
Motorized with 1000 horse power rated under international maritime. Code of Safety, 13 meter length, 3 meter width. Boat Capacity for 50 persons completed with life jackets.
G Force is New Lembongan Speed Boat Cruises to get to Sanur. This Speed Boat with complete equipments for the safety of the passengers. G force offers the fastest trip from Sanur to Lembongan which is only 25 minutes.  Free bottled water, comfortable sofa, life jackets are available on board.
This is the fastest speed boat to the Lembongan Island and get include pick up and drop from your hotel in Bali. Also transfers to your hotel where you stay in Lembongan Island.
Discover Nusa Lembongan Bali's Neighbour Island by G-Force and have a great memorable island holiday in Lembongan island.
Boat schedule depart daily from Sanur beach direct to Jungut batu Lembongan
| | | |
| --- | --- | --- |
| Sanur | 09.15 | 11.15 |
| Lembongan | 13.15 | 16.00 |