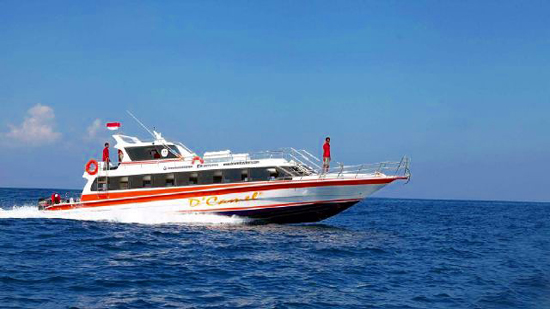 D Camel Fast Ferry provides daily boat transfer among Sanur (Bali) and Nusa Lembongan. Nusa Lembongan is a small island off the southeast coast of the main island of Bali. Quickly becoming one of Bali's most popular attractions, this island paradise is the world away from the hassle and hectic pace of South Bali. Neither hawkers nor traffic mar the magnificent scenery; this is a fine place to just put your feet up and relax. Main activities include surfing, diving, and snorkeling. The water is some of the clearest you will find anywhere, and a vivid aqua blue in color.
Nusa Lembongan is approximately 8km² in size and is one of three neighboring islands, the others being much larger Nusa Penida and tiny Nusa Ceningan. The three islands are separated from Bali by the Badung Strait. Some visitors may find Nusa Lembongan a little slow after the pace of South Bali.
Many areas around the island are good for diving and snorkeling, with abundant marine life and healthy coral. Surfing can get a bit crowded, but the waves are good. There are several white sand beaches away from the main centers which are virtually never crowded. There is a flourishing and well-established seaweed farming industry here, and many visitors find it interesting to learn about this.