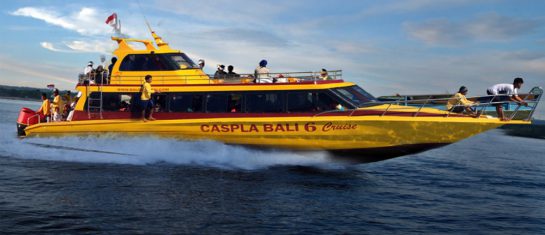 Caspla bali sea view is tour and travel boat that provides regular trip for sanur to nusa penida daily. It only takes about 30 minutes from sanur port to nusa penida and Lembongan island. Caspla Bali Sea View has been accredited both with the complete international accommodation and professional staff, with quite a lot of ship capacity.
Caspla bali sea view provides 5 public boats with 3 variants engines. Caspla Bali 3 and 4 each equipped with 3 x 200 PK yamaha engine to transport 40 people. Caspla 5 and 6 is equipped with 6 engine to transport 90 and 75 people. And last, Caspla 7 is equipped with 4 x 250 PK yamaha engine to transport 85 people. Caspla Bali Boat is the best speed boat with 6 year experience sea public transport routing at nusa penida.
SAFETY EQUIPMENTS :
45 Pcs Life Jacket,
Life raft,
2 set Life Flare,
EPIRP,
Fire Extinguisher,
Fire Pump,
Marine Radio Communication,
First Aid Kit
2 Unit Life Rings.
NAVIGATION EQUIPMENTS :
GPS Map Plotter,
Radar 18 Mill,
Sonar Depth Sounder
Auto Pilot
TAG :
Activities in Nusa Lembongan
,
bali
,
bali bomb memorial
,
Bali Port
,
Bali to Gili Trawangan
,
Bali to Lembongan
,
Bali to Nusa Lembongan
,
Boat to Lembongan
,
destination
,
Fast Boat to Gili Air
,
Lombok Port
,
Serangan to Gili Trawangan
,
Serangan to Lombok
,
tourism
,
trawangan
,
tropical
,
tropical island
Social Share