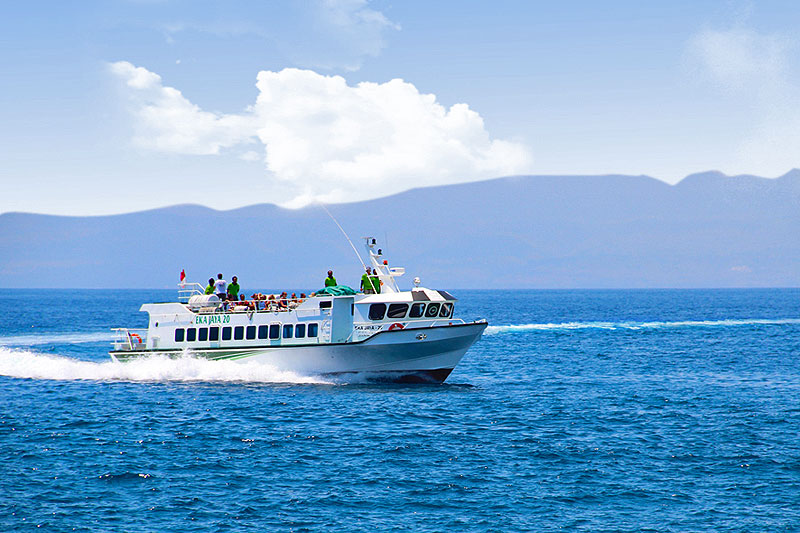 Ekajaya Fast Boat offers daily boat transfers among Bali – Gilis Island – Lombok – Nusa Lembongan. Bali Eka Jaya has Aluminum boats which are internationally standardized and especially built to support your activity and to serve as fast boats to Gili and Lombok. The size of the boats has been adjusted to meet all boating requirements. Our vessels have spacious cabins and are specialized for those who love sea activities. Furthermore, all boats have weather-proof construction with good endurance to stand any extreme weather conditions. Bali Eka Jaya has 3 different boats with various passengers capacity:
Bali Eka Jaya 19 (118 passengers)
Bali Eka Jaya 20 (116 passengers)
Bali Eka Jaya 21 (111 passengers)
The seats are also one essential factor that we carefully put into our consideration since we aim to give total comfort. Therefore only selected materials are used in all of our seats. Safety is also an important factor and we ensure that complete safety equipment, which includes life jacket and self inflating life raft for every passenger, is available in every vessel. So, whether you go for a single or return trip from Bali to Lombok, we guarantee that you will be fully protected.
For highly sophisticated vessels, high speed is a component that will support your activities. Going for surfing by boat to Lombok has become very easy since you have an option of chartering one of our vessels. Your every need for a perfect vessel can be fulfilled, whether you are seeking for comfort, safety, self-satisfaction of cool design, or even sophisticated technology. Boating activities will be more enjoyable by using one of the vessels of Ekajaya Fast Boat and cover many pick up area such as Nusa Dua, Jimbaran, Kuta, Seminyak, Legian, Sanur, Ubud, and Candidasa.