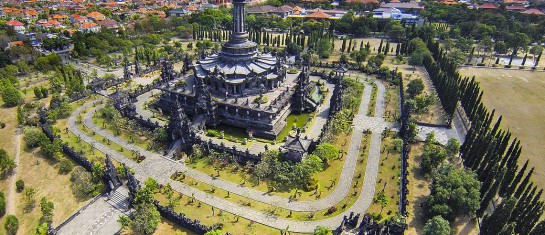 Bali has kinds of squareswhere the people, tourists and travelers could come and enjoy the unique atmosphere as well as seeing Bali's local people activities. Two of them are Puputan Square (Alun – Alun Puputan) and Taman Wedhi Budaya (Bali Art Center). Those are the cheap destinations where you can see Bali cultures, arts, and other things about Bali. 
Alun – Alun Puputan (Puputan Sqaure)
Alun – Alun Puputan is located in Jl. Gajah Mada and Jl. Suprati. It is the orientation key point of the whole city. Tourists can use this square as the clue when they are getting lost; by finding their way back to the square, they will see where they are clearly. At the center point, a huge statue is situated; it is Catur Mukha statue (a god of Hindu with four faces and eight arms). The statue is the Lord Brahma in Hindu that serves to guard every cardinal point in the center of the city.
In the evening, many local people visit Puputan Square to enjoy the atmosphere as well as theentertainments for kids. Because of the high amount of visitors and kids play on the square, many sellers of kids' toys also open for business there.
Taman Wedhi Budaya (Bali Art Center)
Taman Wedhi Budaya is another park in Bali. It is also known as Bali Art Center that houses Balinese cultural building complex. Built in traditional architecture of Bali, this is a great place in East Denpasar where you can see Bali Arts Festivalthat is usually held in the middle of June to the middle of July. This park was established in 1973 as a cultural park with a purpose to preserve and promote the traditional culture of Bali.
A garden is the location where the art center is set. It has a lotus pond and some buildings that are designed in traditional architecture. The main building is the Mahudara Mandhara Giri Bhuwaana that stores the permanent collections of art. To see the foreign fine arts exhibitions, you can visit abuilding named Gedung Kriya Uccaihsrawa. Meanwhile, a two-story building named Dewi Ratih is the place where the architectural and photography exhibitions as long as the art festival.
In a huge and curved shaped building named Ardha Candra Amphitheater, performances of music, dance and drama are held; over 7000 spectators can be accepted to see the performances in this building. Kinds of drama and dance performances called Sendratari are commonly held in this building. Besides, they also perform gong kebyar festival with music and also drama gong. Under the amphitheater, there is a space that is used as a showroom to exhibit the gorgeous handicraft products from small industries during the Bali Arts Festival.
Another stage named Ksirarnawa is a 5500 square meter stage where other performance are held. It can hold up to 1500 people and more commonly used as a conference or seminar place. This building provides relaxing gazebos, painting studios, western workshops and also the place for theater and dance exercises. For smaller performances, the stage that is commonly used is Angsoka; situated in front of Ardhacandra.
Social Share