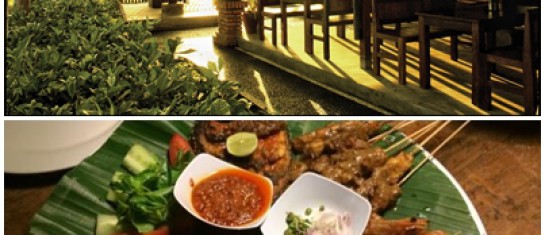 Denpasar is the capital of Bali province and without a doubt the most complete area in the island. When we talk about culinary adventure in Bali, Denpasar is the best destination because there are many restaurants bring a vast selection of menu. There are two streets in Denpasar where you can easily find various eateries, from local, western, oriental, Arabic, Mediterranean, Indian foods and do not forget special menus from all over Indonesia. There are also night market stalls where tourists and travelers can easily find local meals at very low prices. Moreover, Denpasar is also known as the place where there are many roadside food tents open until late.
Here are some interesting restaurants that offer tasty food at Denpasar Bali. You have to try them when visiting the exotic island:
This is a popular Italian restaurant in Denpasar. Located in the western outskirts of the city, the restaurant offers a vast selection of pizzas, pastas and macchiato. Il Podomoro is often seen as a place to find a cozy retreat because it brings modern Italian designs and interior styling. There are some menus you have to try here, such as calzones, pizza Venetiana and pizza Sarda which is decorated with pepperoni. The menus offered by the restaurant are authentic because it is created by a professional Italian chef. As Italian restaurant, Il Podomoro does not forget to provide a wide selection of gelato.
Babi guling or suckling pig, is one of the most popular menus in Bali. However, only some places where you can find the best, one of them is Babi Guling Chandra. The menu here is dominated by pork cooked in different styles. If you do not like pork, this homey restaurant also offers duck and chicken. If you order a portion of babi guling, you will get a plate of white rice, slices of pork meat, satay, pieces of fried offal and skin and a bowl of pork soup.
It is a Bakery and Café that has been established since 1994. Located in Denpasar, it has one branch in Kuta, Bali. There are various options of freshly baked products offered in this Bakery including western breads, doughnuts, patisseries, deserts, and more. Enjoy the meals while accessing internet through its free WiFi connections for free. It opens for all meal times and can be reserved for special occasions such as cocktail parties, gathering, etc.
You can visit café Warung Taji to enjoy some Italian and Japanese cuisines. Try the tasty Japanese style sandwiches, stuffed baguette in 28 centimeter of length, homemade pizzas in crusty and wheat baked thin choices as well as various topping options. Enjoy the foods while accessing the internet with the free WiFi connection.
It is a great restaurant with unique dining approach where you canenjoy fresh Indonesian seafood in various options. It got a layout of no-frills canteen style that is spacious enough to welcome up to 100 diners with a large car park. It serves high quality foods in IDR 5,000 – 85,000 of price range. Their special menus are such as fish fillet with mango sauce, fried crab with black pepper and salted eggs sauce, and many more.
Social Share