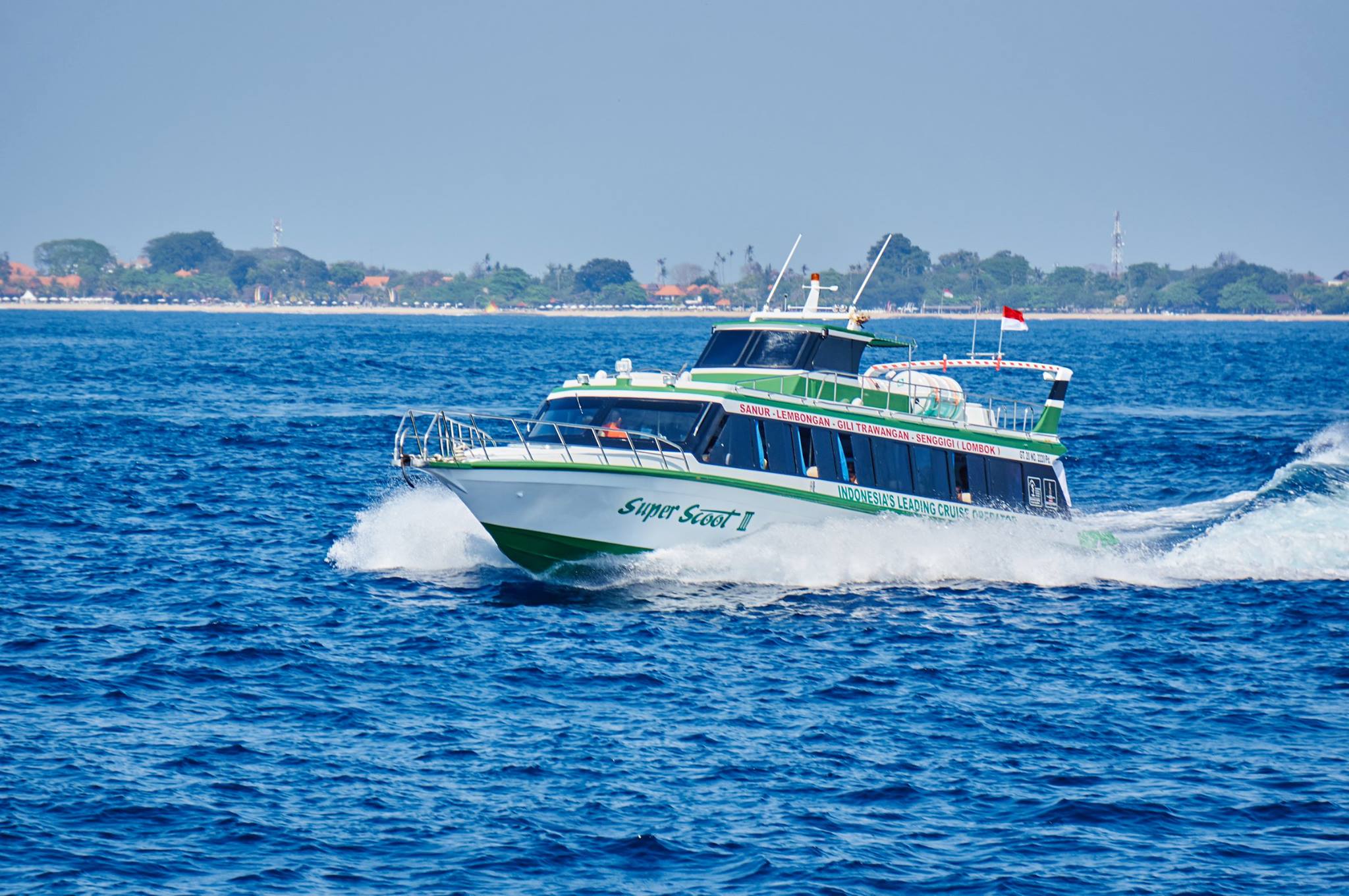 It is the four time business operations winner and become the leader in Bali, Nusa Lembongan, Lombok and Gili Islands fast boat transfer. Scoot fast Cruise is a fast boat transfer specialist around Bali, Lombok and Gili Islands, including Gili Air and Gili Trawangan.
Scoot Fast Cruises has been independently owned and operated since 2005. It's managed and operated by an Australian registered ship's captain who has over 40 years experience in Marine Tourism throughout Australia. It becomes a fast boat specialist from Bali to Lombok and Gili Islands and also committed to offers detail in highest standart of safety by either Indonesian International insurance.
As the winner of the prestigious Travel Award Indonesia Leader in Business Cruise operation, Scoot Fast Cruise also commited to serve their passengers in the most convenient departure time by with extensity trained staffs as the highest Indonesian qualifications.
Fast Boats to Lembongan

Scoot Fast Cruise  takes 30 minutes to get Jungutbatu village in Lembongan Islands from Sanur Beach in four daily trip and two daily trips from Padang Bai to Lembongan with a crossing time of 45 minutes.
Fast Boats to Senggigi and Gili Islands

Scoot Fast Cruisespeed boats offer a daily return from Bali to Lombok. The boat stops in Nusa Lembongan, Lombok (Senggigi) and Gili Trawangan. We also offer service to Gili Air transfering from Gili Trawangan. It usually departs at 12:45 by approximate 3.5 hours crossing time.
Island Hopping Boat

Scoot Fast Cruise brings flexibility to our guests. It offers some hops. Guests are welcome to buy one ticket during their trip for few days on the each island. Seat availability is limited for this offer, however once a ticket has purchased, officers can assist the arrangements. To book an island hoping tour by Scoot Fast Cruise means you will purchase a one way or return ticket from Bali to Gili Island/Lombok. After your comfirmed ticket, you should contact us directly about your itinerary. We will arrange and confirm your reservations for island hopping then.
Bali and Lombok Hotel Pick Up and Drop Off

We provides convenient services departure from Sanur Beach. Including with free hotel transfers to and from locations in South Bali, Denpasar, Kerobokan, Jimbaran, Tuban, Nusa Dua, Legian, Ubud Center, Sanur, Seminyak, and Kuta. Additional IDR200 fee is used for airport pick-up that can be arranged while airport drop off is complimentary. Complimentary pick up is available from Canggu and Uluwatu for two persons minimum. Service fee is IDR 150 for one way or IDR250 for round-trip service just if the minimum number of people is can't be filled up.
Meanwhile, hotel pick up agenda is be at variance depending on the location. It can be as early as two hours prior to your departure time. Once your reservation is confirmed, you will be provided with the pick-up time from your hotel. We can also be contacted for additional pick up locations with an additional cost. If you are planning your own transportation to Scoot Cruise, it's recommended for you to check in at least a half hour prior to your departure time. Scoot Cruise has 2 kind of boats with various size and passengers capacity:
Super Scoot

(Bali – Gili Islands – Lombok)
Super Scoot (max 50 passengers)
Super Scoot II (max 40 passengers)
Super Scoot III (max 40 passengers)
Scoot

(Bali – Lembongan)
Scoot I (max 15 passengers)
Scoot II (max 20 passengers)
Scoot III (max 35 passengers)
Scoot IV (max 15 passengers)
Scoot V (max 35 passengers)