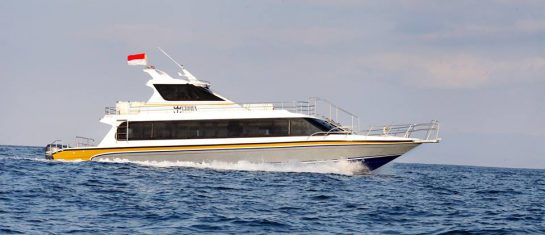 Crown Fast Cruise begin their operation on 22 September 2017 under the auspices of Bahruna Murti Utama Company to serve you who want to enjoy the beautiful nature of Nusa Penida Bali. Equipped with international standards, It provide a reliable and efficient crossing for this ferry route, which is part of the reason for their growth into one of Indonesia's most respected operators.
Included with insurance for passengers, the sailing across the Badung Strait from Sanur to Nusa Penida is only around 40 minutes. Moreover the entertainment system provided at the deck are enough to keep you occupied on your journey.
Up to 70 passengers can board the vessel at one time, each person well looked after with up to 80 life jackets plus 5 life jacket for infants. For additional safety, three fire extinguishers, four life rings and two life rafts is on board.
Crown Fast Cruise Specifications:
4 Unit Yamaha Engine @250 PK /1.000 HP
70 Seat
2 Unit Life Rafts
4 Unit Life Rings
First Aid Kit Box
80 pcs adult size life jacket
5 pcs infant size life jacket
3 unit fire extinguisher
Mineral bottle on deck
Fully Entertainment System ( Audio, LCD TV)
Insurance
Social Share