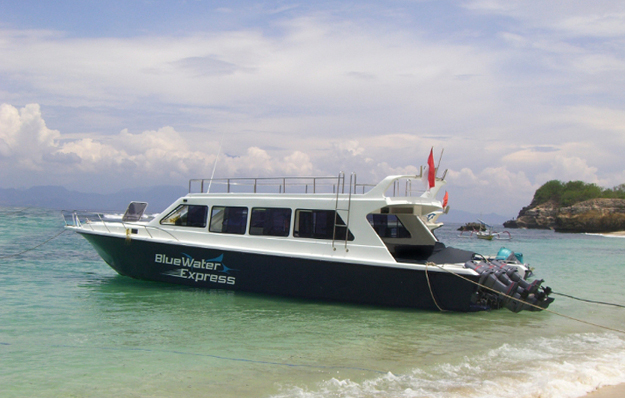 Bluewater Express was known as a high speed boat transfer in Bali, Lombok and of course Gili Islands. It's the best choice to explore the islands in comfort fast boat. The Blue Water Express provides good space both inside and out for the whole boat. It offers the most comfortable in speed to get from Bali tourists areas to the Gili islands and Lombok in various packages and good special offers.
It offers international safety equipment in 100% foreign ownership that operates by professional locals who know a lot about Bali, Lombok and Gili islands. Please chack it online for the tickets in required travel destinations, dates, number of your travel mates and get your e-ticket according to the datas you have submitted. You welcome to pay using you credit card or paypall account.
The boat usually leaves from Serangan or Padangbai at 8:00 AM to Gili Trawangan and Lombok. The other one departs at 9:15 AM to Gili Trawangan, Teluk Kodek (Lombok) and Gili Air. June, July, August and September is known as the best seasons to visit either Bali, Lombok or Gili islands . You can visit this website to get details on the updated schedule and the latest pricelist.
Bluewater Express has a large capacity to saturates the growing number of tourists who spend their holidays to Gili Island and Lombok. Bluewater Express has several boats :
Bluewater Express VII
This boat was launched in July 2014 to become the largest boat. The comfortable vessel runs all routes from Bali to Gili Islands and Lombok that is supported by a 1500 hp engine that can carry 60 passengers with 6 crews.
Bluewater Express V
This boat has 50 seats capacity and supported by 1250 hp engine. It was launched in 2013. It accommodates 4 crews and it is the second featured fast boat of Bluewater Express.
Bluewater Express III
This boat operated earlier than the other boats. It was launched in March 2009. It accommodates 30 passengers, 4 crews and supported by 1000 hp engine with a maximum speed till 35 knot.
Bluewater Express I
It has the smallest capacity in 25 seats and used only to serve sea transfer from Bali to Gili Trawangan and Lombok. However, it doesn't operate nowadays.