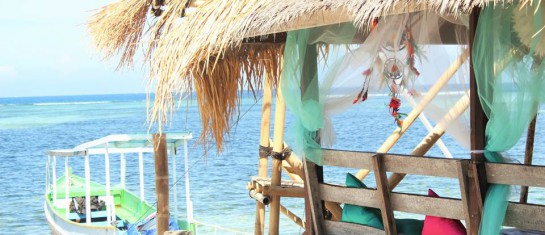 Gili Air is the nearest island to the mainland Lombok among the Gilis Island. Compared to the Gili Meno and Gili Trawangan, Gili Air is the most populated and overlooked on the development than other ones. Just like the other Gilis, there are no motorized transportation and you have options walking, renting bicycle, or cidomos for go around the island. Bicycles rent about IDR 30.000 – 50.000/ day or cidomos with flat charge IDR 50.000 for any trip regardless of the distance, but maybe it will cost more money on rainy day about IDR 70.000. Or prefer the last option? Only around two and a half hours by walking, it needs no money at all besides maybe the tiredness but it will pay off by the beautiful scenery that offered.
Just like Gili Meno, the pace of life in here is slow and suitable to the people who want to escape of the hustle and bustle of the city life. A lot of tourists are fascinated with the grass root atmosphere in the island and feeling of being part of the local communities. Not only that, many of the older generation of the locals still make their living as boatmen, fisherman, and farming coconut which is for some people it will give taste of tropical life. Fascinating, right?
The most of the accommodation and other tourism facilities can be found on the south and east coasts that facing Lombok. More accommodation, like cafes and bars are slowly starting to open up on the main beach strip. Internet facilities are available on this island but don't expect too much about the speed. Most of things in Gili Air is sold at higher prices since all food and goods must be brought over from the mainland. There is ATM machine which located on the east side in the middle of main strip, so you don't have to worry about running money out. It takes all cards like Visa, Master Card, Cirrus, and Maestro. Electricity is available since there is cable installed from mainland Lombok, but it doesn't available all the time yet. There are still some power outages for a few hours.
Gili Air offers almost all tropical island tourism activities such as swimming, snorkeling, and diving. The swimming and snorkeling spot is along the east coast that will give you a view of beautiful coral reef with the colorful fish swim around it. There are few dive centers that will take you to the right direction for marine adventures. Manta Dive, Blue Marlin, and Dream Divers are dive centers with PADI course. For Manta Dive that has been successful in Gili Trawangan, provide not only PADI but also SSI courses from beginner to instructor level which are conducted onsite and also cater with variety of packages to suit all abilities and demands.
Dive center boats will take the divers to the two most popular spots Haan's Reef and Gili Air Wall. Haan's Reef is often visited by photographers who want to capture a glimpse of stranger fish such as flying gunard, frogfish, and some kind of pipefish. While the Gili Air Wall is a twenty-four meter vertical drop where you can see turtles, pygmy sea horses, lionfish, and leaf scorpion fish.
So, come and feel the amazing Gili Air through your experience!
Social Share